I've been playing with my new foot, I bought it before Christmas and it is the 1/4 inch foot with the side guide on it which helps with accurate pieceing, I used to have foot like this on my old Janome and always missed it.
I have made the square in a square blocks for the borders of the Bargello, but have decided on a new setting.
I have been wanting to try Trapunto for ages and thought these boreders might give me an opportunity.
I recently missed out on a quilt as you go project that has been taking place in my quilting class, I didn't want to start a new quilt when I was already making the poppy quilt, so I thought I would use the technique on this quilt instead.
I am going to quilt the bargello itself first and then individually quilt the borders.
I'm really excited to be trying out two new techniques!
This post is linked up to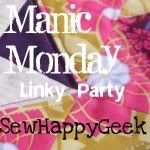 Happy sewing!