A little parcel arrived for me in the week, 100 sheets! that should keep me busy and an add a quarter ruler a gadget that I didn't technically need as I have a 1 - 6 inch ruler already, but hey it doesn't have the edge bit on it so......
And I've been cutting up my charms into sets of six colour tones.
and then stacking them ready
Ive printed out the foundation patterns, so I'm all set!
This little ark needs some more friends!
This post is linked to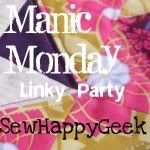 Happy sewing!