Its a flimsy!
It has been made using a Kona charm pack and Kona white.
It's ready to be quilted, I just need to come up with some quilting ideas to fill up all that white space, I'm not intimidated MUCH!
This post is linking up with Sew Modern Monday, Sew Happy Geek and Patchworktimes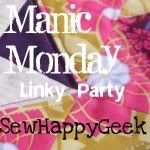 Happy sewing!